Habitat FAQS
Here are the answers to some of the most frequently asked questions about Habitat for Humanity! Please contact us if you have any additional questions.
FAQS About Habitat for Humanity
Over the years, Habitat's signature business model included local volunteers working with selected families and Habitat construction staff and a variety of local suppliers to build a home with an affordable low interest loan carried by Habitat. We built one to two homes a year with volunteers dedicating their time to making a family's future brighter and to making their community stronger. Affordable homeownership was and is Habitat's ultimate goal.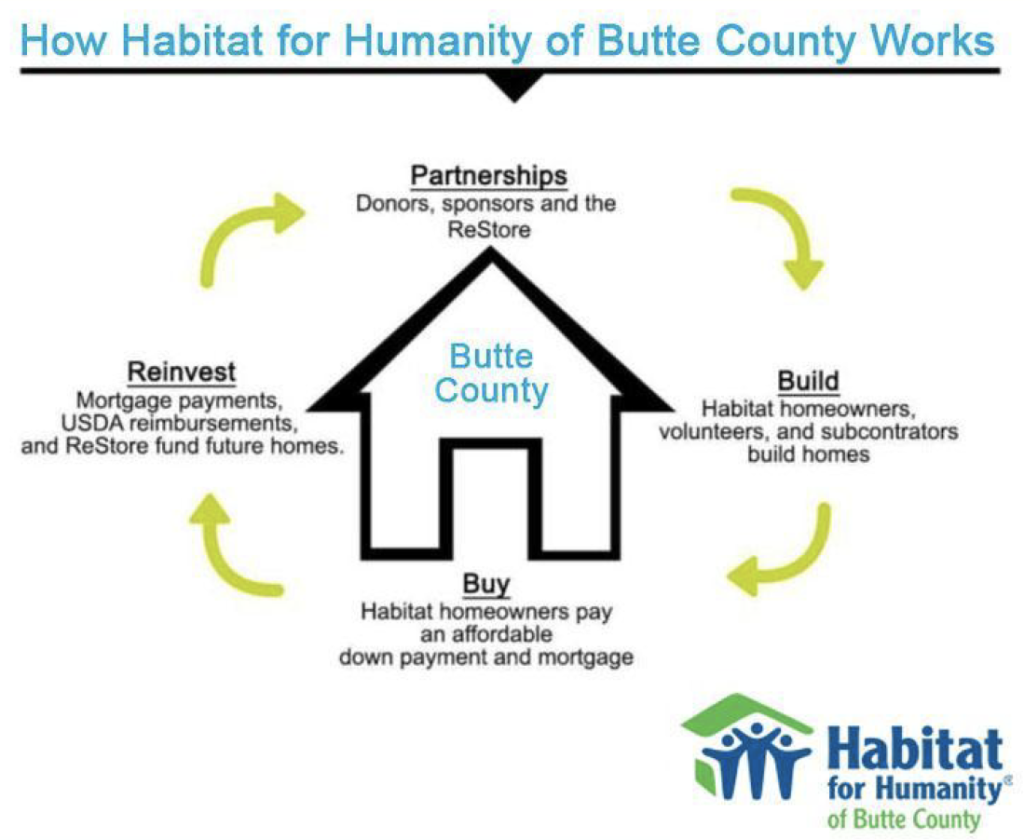 While our county has faced a need for affordable housing for years, recent devastating wildfires have created a massive need and the entire county has joined in the effort to rebuilding. Financial support came to our area in donations, corporate giving, and federal and state dollars. The urgency to create housing and rebuild the Paradise community has been paramount.
The response has been heartening. Truly, everyone has jumped in to help reclaim Paradise.
To respond to these forces, Habitat began restructuring, inviting Paradise volunteers to join our Board, adding staff and expertise, and looking at new and innovative ways to build homes more quickly. Here is a quick rundown of how our business model has adapted.
1. What are the Habitat Partnerships?
Habitat began the first three houses in Paradise in a partnership with the National Ready Mixed Concrete Association (NRMCA) with the goal of building homes that were as fire safe as possible. Using an innovative technique called insulated concrete forms (ICFs), the walls were built with concrete. We also partnered with the Rebuild Paradise Foundation and used pre-approved house plans to reduce our costs. These homes will be occupied in the summer of 2022.
In our effort to produce homes more quickly and use funds more effectively, Habitat has also developed a partnership with Trilogy Construction, a local construction company with a long history of community service in Paradise. This partnership between a nonprofit and for-profit company allows us to balance the need to build housing faster and continue with our traditional model.
All homes will meet the fire-safe standards set out by the Town of Paradise. As housing is getting more expensive to build, Habitats across the country are looking at different models to build more economically.
2. How are these partnerships created?
The national Habitat organization brokered the partnership with the National Ready Mixed Concrete Association and many other Habitat affiliates signed on. In Paradise, we solicited information from several construction companies and the board chose to work with Trilogy.
3. What about the model of using volunteers?
Volunteers are still needed! Habitat will use the traditional model for the homes that Habitat builds and the homes that Trilogy builds, we will use volunteers to do the landscaping, irrigation, sheds, and fencing. In addition, Habitat's mission includes building homes AND communities, and our volunteer strength will go to supporting a multitude of community activities in Paradise.
4. Will new homeowners still have to provide sweat equity?
Of course! They will work on their own homes, or other Habitat homes, as well as in the ReStore and in a variety of community projects. Our contract with Trilogy calls for Habitat volunteers to handle the landscaping, irrigation, sheds, and fencing needs of the homes they will build. Contact Volunteer Coordinator Cory Beynon at 530-343-7423 or coryb@buttehabitat.org for information about projects and how to sign up.
5. What is Habitat's goal for the Habitat Rebuilds in Paradise Project?
As of August 2022 we have 21 lots (seven of which were donated!). Seven of our lots are under construction. We see ten homes a year as a goal. Our pledge is to do our part to bring people home to the Ridge community.
6. Has Habitat's mission changed?
Not at all! Habitat is committed to building affordable houses for those who would not be able to own a home otherwise. We are committed to bringing people together to build homes, communities, and hope.
Addresses
Location | 220 Meyers St. Chico, Ca 95928
Mailing | P.O. Box 3073
Chico, CA 95927
Contact
Please Contact Us:
info@buttehabitat.org
(530) 343-7423
ReStore (530) 895-1271
Hours
Administrative Hours:
Mon – Fri, 9:00 AM -5:00 PM
ReStore Hours:
Tues-Sat, 10:00 AM-6:00 PM (donations accepted until 5:30 PM)